UCOM 43rd Annual Seminar
and Annual General Meeting
Saturday, October 28, 2017 8:00 am to 3:00 pm
"Smart Condo Living"
Management Education Center,
811 W. Square Lake Road, Troy, MI 48098
---
I-75 CONSTRUCTION INFORMATION
(From the Detroit Free Press)
Ramp closures include:
The Adams Road entrance ramp to northbound I-75
The Adams Road ramp to southbound I-75
The northbound I-75 exit to westbound Square Lake Road.
The eastbound Square Lake Road entrance to northbound I-75
The eastbound M-59 ramp to southbound I-75
These ramps are expected to remain closed until mid-September.
Follow the I-75 modernization progress on the web at www.modernize75.com or follow on Facebook at http://www.facebook.com/modernize75  or on twitter at https://twitter.com/modernize75
---
The theme this year is "SMART" –smart phones, smart cars, and smart condo living, so relax, enjoy, and learn!
Once you've checked in, help yourself to a bountiful continental breakfast and take some time to talk with vendors and association board members.
Topics Include:
Drilling Down on Essential Condominium Concepts
Secrets to Success from the Condo Guru: Meisner's Maxim
Cyber Theft, Fraud & Embezzlement – Avoiding the Pitfalls
The One Hour Board Meeting
Amending Your Condominium Documents: Preparing for Success
Reserve Studies
Understanding Your Directors and Officers Policy: Do We Have the Right Coverage as a Board; Ideas for Boards to Help Ensure Unit Owners Have the Right Insurance Coverage
Condominium Governance: Desperately Needed Amendments, Collecting and Reducing Assessment Delinquencies, Enforcing the Rules and Restrictions, and Collecting Your Attorney's Fees!
"Go Green! How to Make Sure Your Lawn is Healthy"
And the always popular Panel Discussion: Questions and Answers with Legal Counsel.  The Legal Panel will feature four attorneys, representing four law firms specializing in condominium law. This year's moderator is attorney Ed Lee, who will make sure that questions coming from the audience will be expertly fielded and answered. Please come prepared with questions. It would be great if you could have your legal question prepared in advance and turned in to the people handling check-in or to one of the UCOM staff during lunch.
John Finkelmann, Makower Abbate Guerra Wegner Vollmer PLLC
Dan Feinberg, Meisner Law Group P.C.
Kevin Hirzel, Cummings, McClorey, Davis & Acho P.L.C.
Richard Wagner, Zelmanski, Danner & Fioritto PLLC
Moderator: Edward Lee, Makower Abbate Guerra Wegner Vollmer PLLC
And many vendor exhibits.
Registration Deadline: October 20, 2017
2017 Seminar Registration Form
Traffic Bulletin
I-75 exits to Square Lake Road are closed for construction as of this writing and it is uncertain if they will be open in time for our seminar. As an alternate route you can use the Crooks Road exit and head north to Square Lake Road- make a right turn and The Management Education Center will be on your right.  Our website will let you know if all exits are open in late October.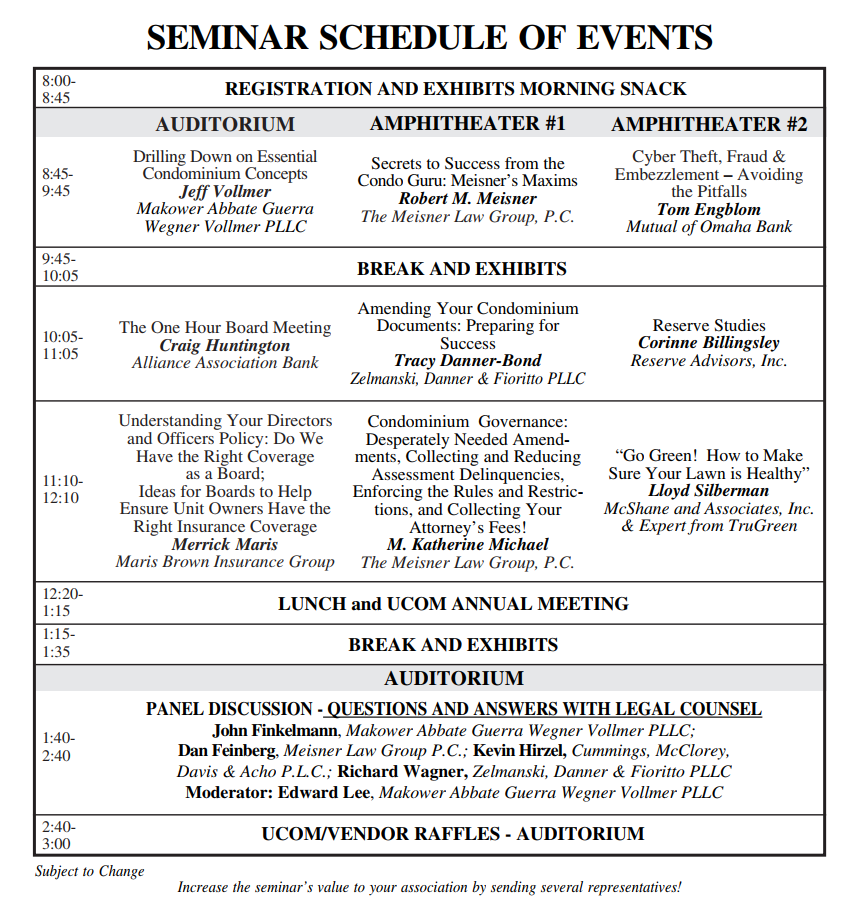 ---
ELECTION: UCOM NEEDS YOU!
We will have six (6) seats up for election with only four board members running for re-election: Carol Hoggard, Ruthe Levy, Neal Moore, and Lloyd Silberman.
The other two seats are open for you – so please do email us information about yourself and your association, along with a short explanation of why you are interested in serving on the UCOM board of Directors.
You will find a short explanation of the qualifications and responsibilities of UCOM Directors on our website. Call us at (248) 352-8490 or shoot us an email at info@ucomonline.org if you have any questions.
---
Additional information for Seminar Sponsor Vendors.
2017 Seminar Advertising and Exhibit Order
---
The United Condominium Owners of Michigan (UCOM) is dedicated to the interests of condominium owners in the state of Michigan.
UCOM was founded as a non-profit corporation in 1973 to serve the growing demand for current information, guidance and motivation for those who have adopted the condominium lifestyle.
UCOM, over 40 years after its founding, continues to be the only organization in Michigan devoted to the education and training of condominium leadership – the officers, directors and committee chairpersons who serve their neighbors and co-owners by regular contributions of personal time and study to make their communities wisely and fairly administered, cost efficient, enjoyable – and to maintaining and improving property values.
UCOM provides year-round services to its members on a budget derived from moderate membership dues based on association size (number of units). UCOM by-laws permit and encourage non-voting membership for suppliers and others with professional relationships, including management companies; legal, accounting and insurance firms; developers and realty companies.
UCOM accomplishments benefit condominium owners generally, such as presentation of consumer (owner) views and concerns about the 1978 revision of the Michigan condominium law. With other concerned groups, UCOM aided in getting the Michigan Public Utility Service Commission to modify rate structures of gas utilities – a change which benefited condominium associations and owners.