42nd Annual Seminar
Annual General Meeting and Election
2 1/2 weeks to go! The UCOM Annual Seminar and General Meeting will be on Saturday, October 15, 2016.
There are still a few tables open. Advertising space is no longer available. If you are interested, check the following link for information and pricing. 2016 Seminar Exhibit Order
We hope that those of you who have been with us in the past can join us again.
For you first timers thinking about joining us – try us, you'll like us.
Any questions email us or call 248-890-3425.
We hope to see you in Troy on the 15th!
---
The Annual Seminar/Meeting will be held this year on Saturday, October 15th at the MEC Management Education Center, 811 W. Square Lake Road, Troy, Michigan 48098.
Annual Seminar 2016 Registration Form
The format will be somewhat different this year.  The suggestions that attendees take the time to fill out and turn in at UCOM seminars get a serious review by our board members.
The changes reflect some of your suggestions.  We brought back some requested speakers including (in alphabetical order): Tom Engblom, Merrick Maris, Robert Meisner, Kay Michael, and Jeff Vollmer. We also brought back our highly popular legal forum.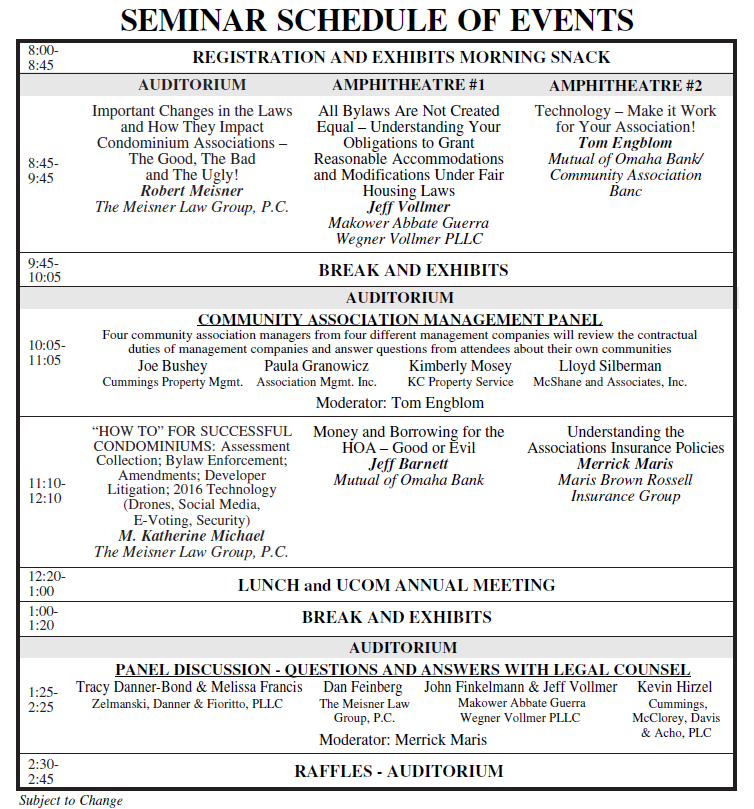 If anyone is interested in running for the UCOM Board of Directors, please email your request and a short resume or biography to info@ucomonline.org .
---
The United Condominium Owners of Michigan (UCOM) is dedicated to the interests of condominium owners in the state of Michigan.
UCOM was founded as a non-profit corporation in 1973 to serve the growing demand for current information, guidance and motivation for those who have adopted the condominium lifestyle.
UCOM, over 36 years after its founding, continues to be the only organization in Michigan devoted to the education and training of condominium leadership – the officers, directors and committee chairpersons who serve their neighbors and co-owners by regular contributions of personal time and study to make their communities wisely and fairly administered, cost efficient, enjoyable – and to maintaining and improving property values.
UCOM provides year-round services to its members on a budget derived from moderate membership dues based on association size (number of units). UCOM by-laws permit and encourage non-voting membership for suppliers and others with professional relationships, including management companies; legal, accounting and insurance firms; developers and realty companies.
UCOM accomplishments benefit condominium owners generally, such as presentation of consumer (owner) views and concerns about the 1978 revision of the Michigan condominium law. With other concerned groups, UCOM aided in getting the Michigan Public Utility Service Commission to modify rate structures of gas utilities – a change which benefited condominium associations and owners.